Fresh and clean mint flavor to enliven your taste buds!
Shop all flavors of mints
Add $30.00 more to get Free Shipping
Regular price
Sale price
$2.49
Unit price
per
Sale
Sold out
Free Shipping on order over $30
These aspartame free and sugar free mints are refreshing & have a minty flavor to liven your taste buds. Keep your mouth feeling fresh with an intense burst of classic peppermint flavor. Comes in a resealable pouch.
xylitol, maize dextrin (fiber), natural mint flavoring
View full details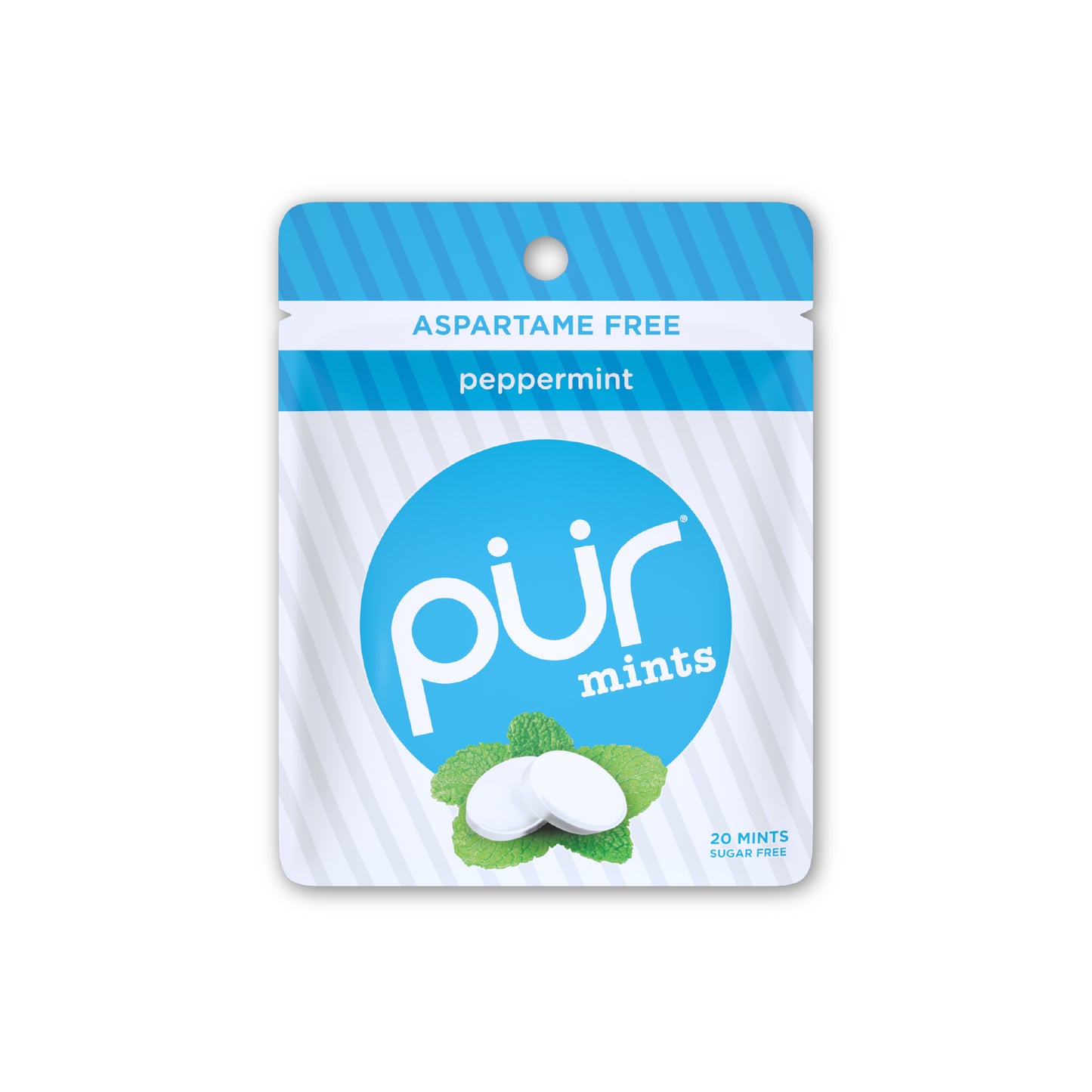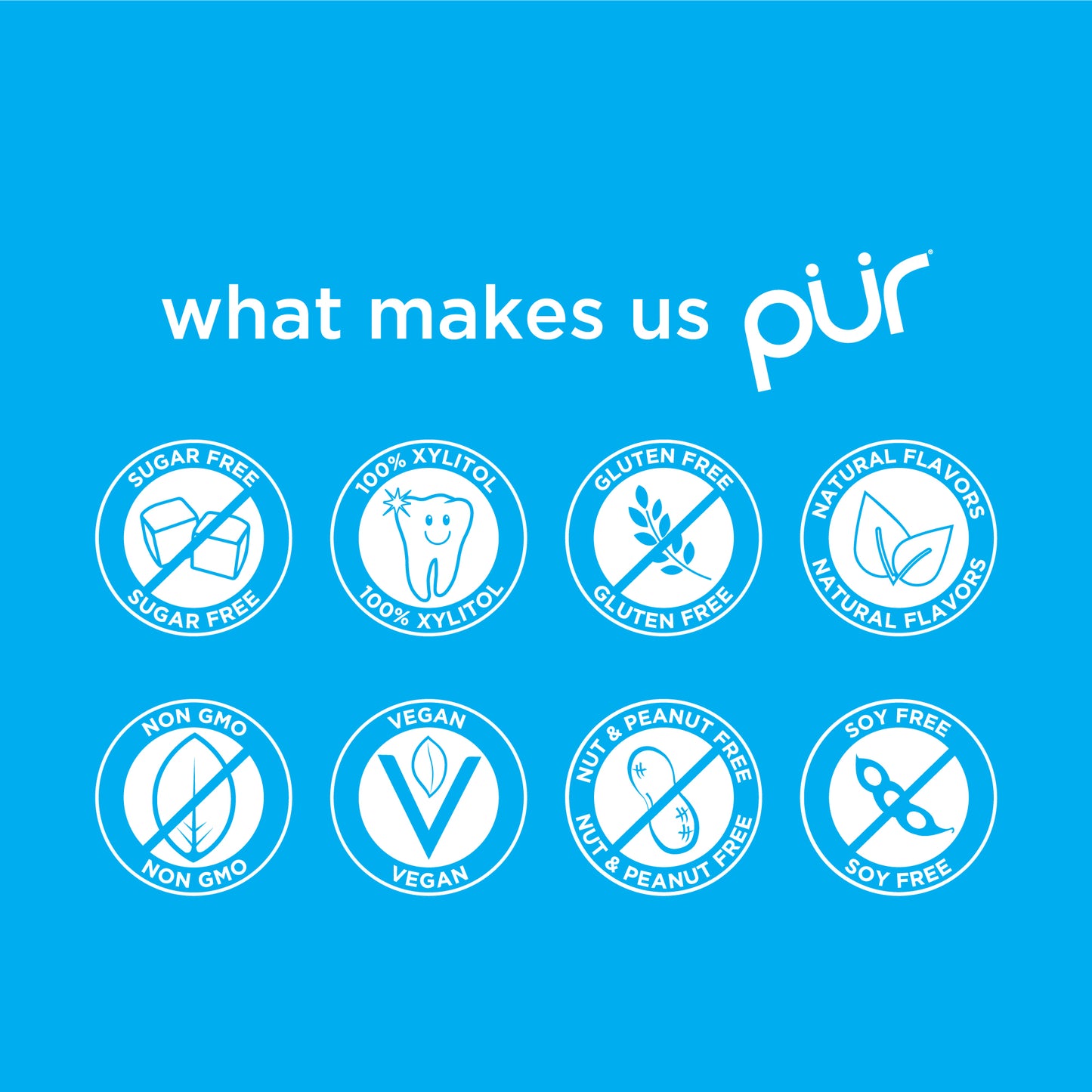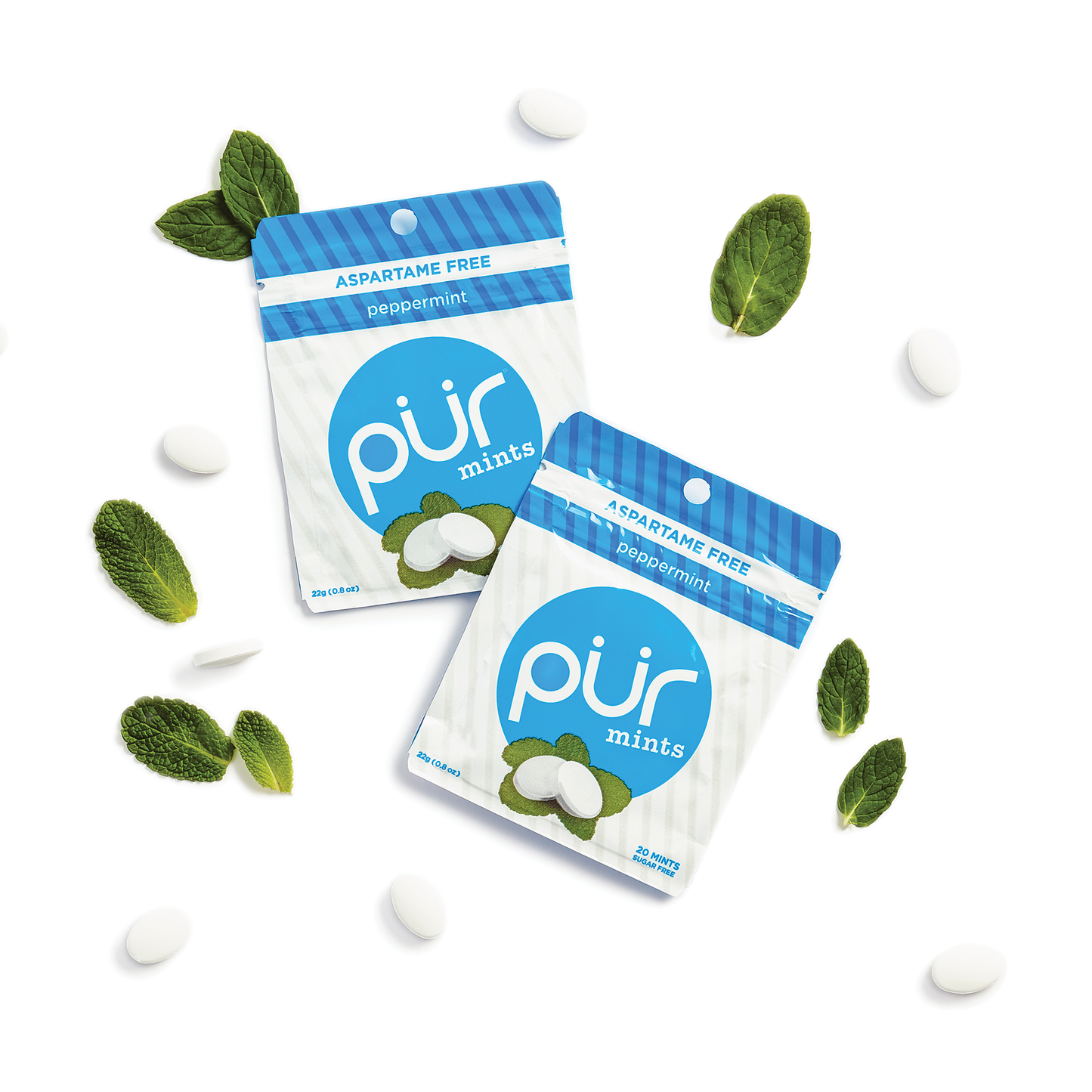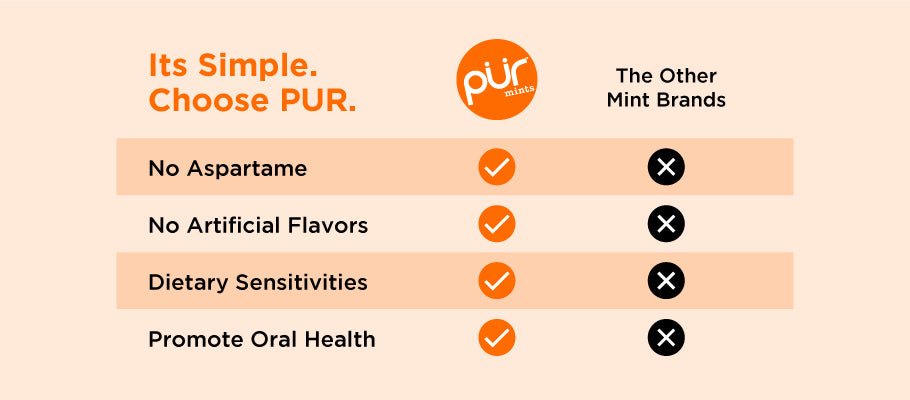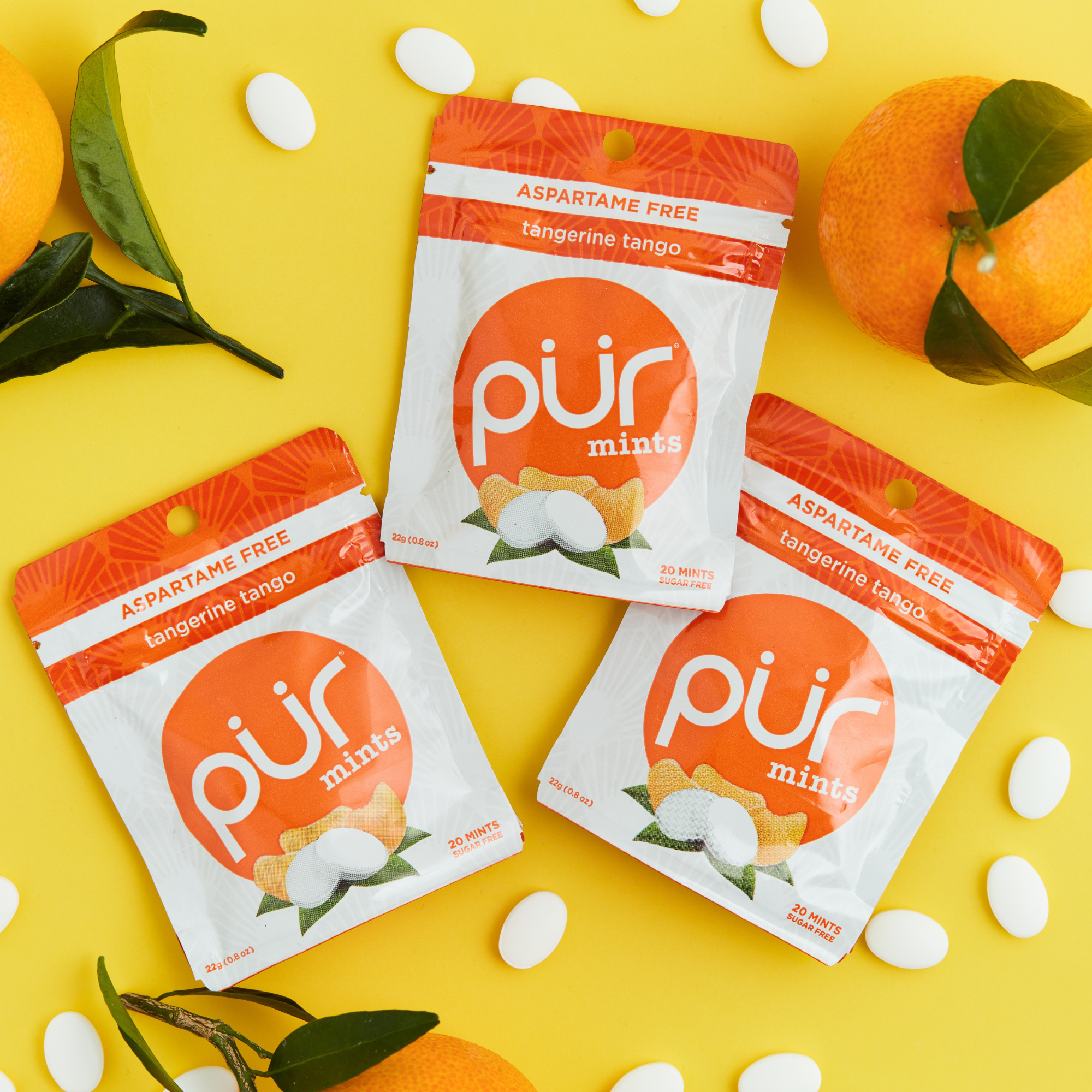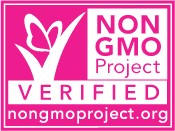 FAQs
ABOUT OUR PRODUCT
What is aspartame?
Aspartame is the man-made synthetic sweetener found in most sugar-free chewing gum, candies, and beverages. The FDA lists 92 symptoms reported from the use of aspartame, including headaches, dizziness, and nausea.
What is xylitol? Where is the xylitol in PUR sourced from?
Xylitol is an all-natural sugar alcohol that looks and tastes just like sugar, yet has 40% fewer calories. It is also recommended by dentists to boost oral health!
How is xylitol beneficial to oral health?
6 grams of xylitol per day reduces decay-causing bacteria, helps to decrease plaque build-up, and stimulates saliva to wash away bacteria.
What makes PUR diabetic friendly?
PUR is naturally sweetened with 100% xylitol, which is one of the lowest sweeteners on the glycemic index. Everyone can safely chew PUR without spiking blood sugar levels.
Is PUR 100% nut & peanut free?
Yes! Both PUR Gum and PUR Mints are manufactured and produced in a 100% nut & peanut free facility in Switzerland.
Why Swiss made?
Manufacturing our gum and mints in Switzerland ensures our products are made with the highest quality and standards. Additionally, the use of GMOs is against the federal Swiss law regulated by the government.
What are the all-natural flavors used in PUR?
The flavors in our gum and mints are all-natural and MSG-free. They are made up of natural powders and essential oils relevant to each flavor. We do not use any artificial flavors or colors in our products.
How is PUR gluten free?
Gluten can hide in many unsuspecting products; it can linger in artificial flavors and colors, or come from facilities that manufacture other products with gluten. PUR gum and mints are manufactured in a gluten-free facility with all-natural ingredients, making them 100% gluten-free!
Are PUR Gum & PUR Mints pet friendly?
Our gum and mints are NOT pet friendly, especially for dogs. Like chocolate, xylitol is an ingredient that is safe for humans, but not for our pets. Even if small amounts are ingested, it can cause hypoglycemia (low blood sugar) in dogs.
ABOUT OUR SHOP
Where do we ship from?
All of our US orders are shipped from our warehouse located in Miami.
What countries do we ship to?
We currently ship to USA and Canada.
What are our shipping rates & delivery time?
All our US orders receive standard shipping. Delivery times are provided upon checkout and are based on the delivery location.
Subtotal over $30* - FREE
Subtotal under $30 - Rates will be provided during checkout based on your delivery location
*We offer FREE shipping on orders over $30 (excluding Hawaii, Puerto Rico, and Alaska)
How do I apply a discount code?
You can apply your discount code at the last step of payment, during cart checkout.
Only one code can be applied per order.
Codes on minimum order amounts are qualified based on the subtotal amount – this means the subtotal amount must remain above the qualifying amount after your discount code has been applied.
All reward price points (such as free shipping or gifts) are calculated on the subtotal price AFTER a discount has been applied. This means that your subtotal must remain above the qualifying amount after your discount code has been applied and recalculated.
What methods of payment do we accept?
We accept Visa, Mastercard, and American Express as methods of payment.
What is our return policy and procedure?
Returns may be made within 15 days of receiving your order, as long as items are unopened. 
To return the items and receive a refund, please email your order number and reason for the return to: hello@thepurcompany.com. You will be notified via email once items are received back to our HQ. 
Items returned to our warehouse without a return authorization request will be subject to a restocking fee.
What does Satisfaction Guarantee mean?
If you're not satisfied with your purchase, we want to hear about it.
We'll replace it with a new flavour of your choice or refund you up to $20 value. We require proof of purchase to honor our Satisfaction Guarantee.